Steph, Warriors find more third-quarter magic to even NBA Finals
by Gordon Dixon - The Warriors refused to repeat the mistakes they made in Game 1 in a blowout Game 2 win.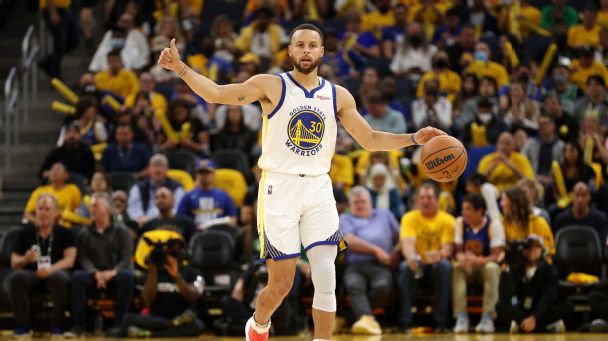 11:58 PM ET Kevin ArnovitzESPN Staff Writer Close NBA writer for ESPN.com since 2008 Former contributor and editor at NPR SAN FRANCISCO -- Stephen Curry , who said he lost sleep after the Golden State Warriors ' Game 1 collapse, can toss and turn less when he goes to bed Sunday night following the Warriors' 107-88 win in Game 2 of the 2022 NBA Finals. Coming off a 34-point outing in Game 1, Curry once again showcased his devastating combination of long-range marksmanship and constant motion, tallying 29 points on 9-for-21 shooting from the field, 6-for-7 from the foul stripe and 5-for-12 from behind the 3-point line. While it wasn't his most efficient game, Curry eluded a typically strong Boston Celtics defense in the half court. His handle and step-back off the dribble were well-tuned, and he initiated an unusual number of the conventional pick-and-rolls the Warriors generally forgo. Curry's dance partner, Draymond Green , kept the Warriors' dribble-handoff game humming. As has been tradition in their eight-season run, the Warriors staged their most vigorous rally in the third quarter, outscoring the Celtics 35-14, their best point differential in any Finals quarter in franchise history. Unlike their prolific spurt in Game 1, Golden State didn't squander it on Sunday. NBA Finals on ABC The Boston Celtics and Golden State Warriors are tied 1-1 with the NBA championship on the line. You can catch all the action on ABC and the ESPN app. Game 3: Wednesday, 9 p.m. ET at BOS Game 4: Friday, 9 p.m. ET at BOS Game 5: June 13, 9 p.m. ET at GS Game 6: June 16, 9 p.m. ET at BOS* Game 7: June 19, 8 p.m. ET at GS* *If necessary Green, who suggested the Celtics' Game 1 exploits would be impossible to sustain, proved correct. Whether it was a regression to the mean, the Celtics couldn't match their historic 21-for-41 performance -- including the eye-popping 9-for-12 fourth-quarter output that ignited their comeback in Game 1 -- from 3-point range, though they still shot at a healthy 40.5% clip. The Celtics generated more turnovers (5) than successful field goals (4) in the third quarter. With more than 10 minutes remaining in the fourth quarter and the Celtics trailing by 29 points, Boston coach Ime Udoka emptied his bench. Though turnovers have long been an Achilles' heel of the Warriors, it was Boston that was infected in Game 2 by the turnover bug. Careless half-court passes plagued the Celtics, particularly in the first half, all but canceling out their continued scintillating shooting from beyond the arc. Overall, they finished with 18 turnovers in 96 possessions Sunday night. Game 2 will not be placed in the Warriors' time capsule beneath one of the 32 private wine cellars at Chase Center. Their patented elegant offense appeared at times ordinary. Klay Thompson struggled for the second consecutive game from the field, and the Warriors desperately need more scoring outside of Curry. Golden State calibrated its defensive rotations, but there were a handful of noticeable breakdowns in its pick-and-roll coverage. Fortunately, the Warriors' defense provided the margin in the win. If Golden State struggled with its accuracy at the rim, the Celtics didn't even show up. Content to launch from distance and midrange, the Celtics attempted only six shots directly at the basket, and drew three fouls there. The Warriors enjoyed the return of one of their most capable defensive aces, Gary Payton II . Payton, who fractured his elbow in the conference semifinals when he was pummeled by Memphis Grizzlies forward Dillon Brooks , played 25 minutes and scored seven points without missing an attempt from the field. The Warriors averted a potential disaster in San Francisco, but they have some work to do as they prepare to enter the hostile environs of TD Garden. Game 2 won't cost the Warriors any sleep, but there's certain to be plenty of racket outside in Boston.