Source: Falcons, star DT Jarrett reach extension
by Ricardo Gutierrez - The Atlanta Falcons and defensive tackle Grady Jarrett have agreed to a three-year extension that includes $34.5 million guaranteed, a source confirmed to ESPN.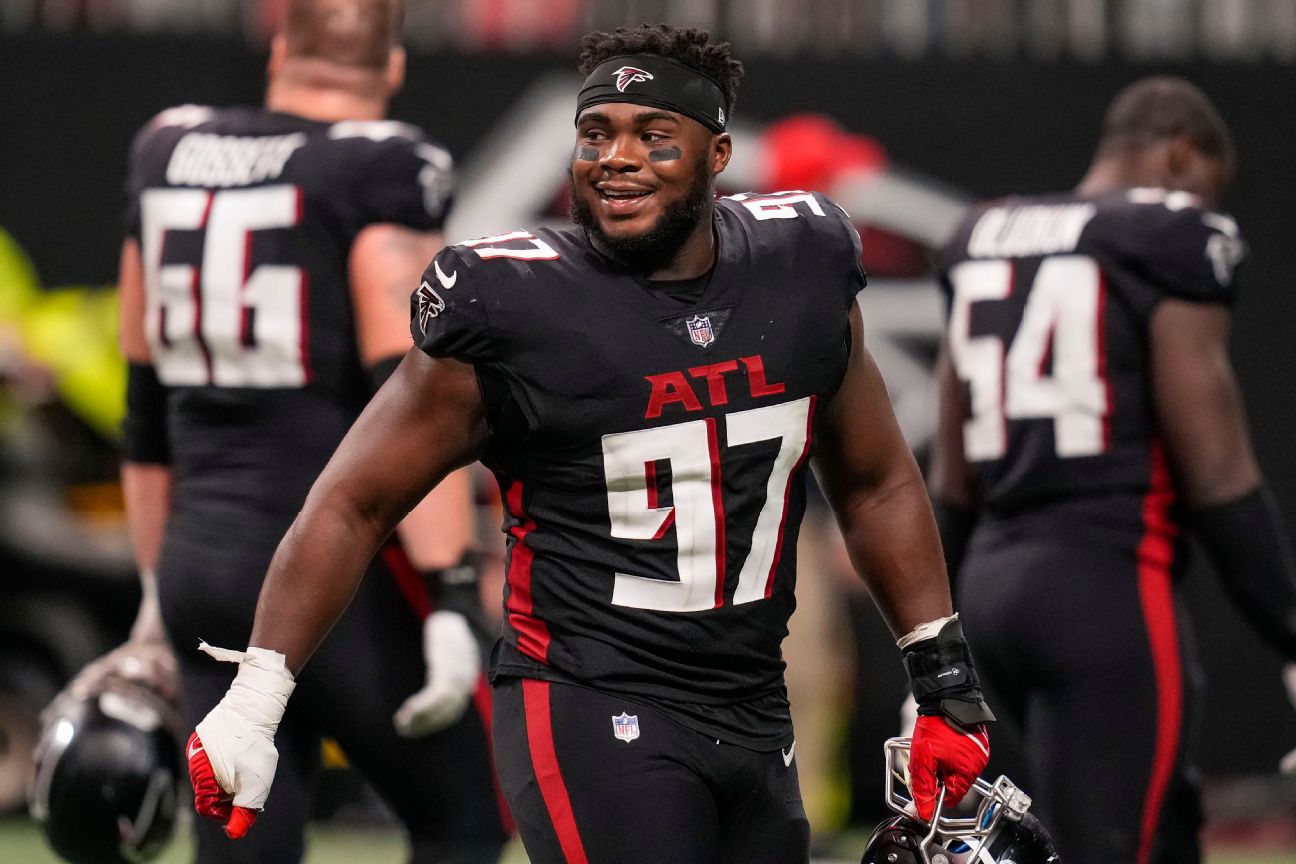 Source: Atlanta Falcons, star DT Grady Jarrett reach three-year extension worth up to $51 million 10:32 AM ET Michael RothsteinESPN Staff Writer Close Previously covered University of Michigan for ESPN.com and AnnArbor.com Also covered Notre Dame for Fort Wayne Journal Gazette The Atlanta Falcons are keeping one of their cornerstone defensive players around for the foreseeable future. The club agreed to a three-year extension with defensive tackle Grady Jarrett on Tuesday, worth up to $17 million per year in new money and $51 million in totality for the extension if he reaches certain incentives, a source confirmed to ESPN. The extension includes $34.5 million guaranteed. Jarrett is now signed through the 2025 season at a total value of $67 million, including the money he was slated to earn in 2022. The news was first reported by WSB-TV in Atlanta. Editor's Picks Falcons cut veteran RB Davis after one season 18h Michael Rothstein Atlanta Falcons see similar skill sets in third-round QB Desmond Ridder and Marcus Mariota 3d Michael Rothstein The best, worst and most surprising of the NFL draft: Favorite picks and classes, rookie of the year predictions, more 14m Jordan Reid and Matt Miller 2 Related The 29-year-old Jarrett -- who celebrated a birthday last Thursday, the first day of the NFL draft -- was a fifth-round pick by the Falcons in 2015 out of Clemson. A Conyers, Georgia native, Jarrett became a starter for Atlanta in his second season in 2016. He made back-to-back Pro Bowls in 2019 and 2020 and has started every game he's played in for Atlanta since the start of the 2016 season. In all, he's played in 110 games -- starting 95 of them -- with 359 tackles, 26.5 sacks, five forced fumbles and three fumble recoveries. Jarrett, the son of former Falcons linebacker Jessie Tuggle, moved around a bit from defensive tackle to defensive end in defensive coordinator Dean Pees' 3-4 scheme last season in an attempt to create even better matchups. Jarrett (6-foot, 305-pounds) became the focal point of opposing offensive lines, sometimes facing triple teams as he tried to work off of blocks. "Based on the way Grady plays and his reputation, I think people will account for him in protection," Falcons head coach Arthur Smith said. "We also move him around a little bit too, but yeah, I mean, if you're playing us, you're certainly going to account for him in your protection schemes." In keeping Jarrett, he'll now become one of the key leaders for the Falcons as they transition most of their roster. He's the second Falcons player to receive a long-term extension this offseason, joining left tackle Jake Matthews . The team also traded quarterback Matt Ryan to the Indianapolis Colts and in the past 12 months traded wide receiver Julio Jones to the Tennessee Titans and had receiver Calvin Ridley suspended for at least one year due to gambling. Atlanta is in the middle of restructuring its front seven as well, with Jarrett as the centerpiece. Linebacker Foye Oluokun signed with the Jacksonville Jaguars in free agency and the Falcons signed Rashaan Evans to potentially replace him. The team has brought in three new edge rushers -- signing Lorenzo Carter and drafting Arnold Ebiketie and DeAngelo Malone -- to try and alleviate some of the attention opposing teams give to Jarrett every down. Atlanta also signed defensive tackle Vincent Taylor , potentially to offer Jarrett more help on the interior. ESPN's Jeremy Fowler contributed to this report.