Morant injures knee in loss; Poole denies ill-intent
by Gordon Dixon - Ja Morant limped off the court in the fourth quarter of Game 3 after Warriors guard Jordan Poole grabbed the Grizzlies point guard's knee.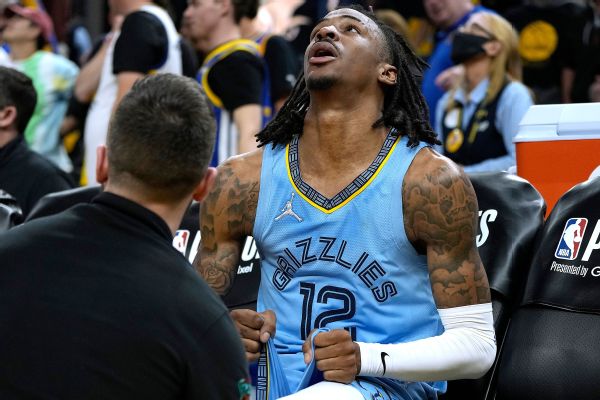 Jordan Poole denies intentionally injuring Ja Morant's knee after Grizzlies point guard limps off 1:23 AM ET Ohm YoungmisukESPN Staff Writer Close Ohm Youngmisuk has covered the Giants, Jets and the NFL since 2006. Prior to that, he covered the Nets, Knicks and the NBA for nearly a decade. He joined ESPNNewYork.com after working at the New York Daily News for almost 12 years and is a graduate of Michigan State University. Follow him on Twitter »   Ohm's chat archive » SAN FRANCISCO -- The Memphis Grizzlies are concerned about their star point guard Ja Morant , who limped off the court with over five minutes remaining in a blowout loss to Golden State after Jordan Poole grabbed Morant's right knee during a trap near halfcourt. Morant left without talking to reporters but tweeted " broke the code" with video of Poole grabbing his knee on a fourth-quarter play before later deleting the tweet. Morant could be seen walking with a limp toward the team bus following Memphis' 142-112 Game 3 loss at the Chase center on Saturday night. The team did not specify what Morant's injury is, saying only that the point guard was being further evaluated. "We're going to ride for our own," Memphis forward Jaren Jackson Jr . said when asked about the team's feeling about the play with Poole. "You know our mentality... You know, make a play on the ball, it's unfortunate. You never want to see that type of stuff. Obviously, it's not done by -- no one is out here dirty. No one is out here like that. But it's just unfortunate." Jackson added: "You know the code. Talk about the code all series at this point." Poole said he is "not even that type of player" to try to intentionally hurt someone. Poole and Andrew Wiggins trapped Morant near halfcourt before Wiggins was called for a foul with 6:55 left. Morant would sub out with 6:19 left and the Warriors up by 17 before later walking back to the locker room. "It was a basketball play when we doubled him," Poole explained. "And I hit the ball and I was going for the ball. I mean, obviously, you don't want to see anybody get hurt. I'm not even that type of player. I respect everybody." Poole added: "Hopefully he gets better, and you know, we can see him out there next game. I don't even play like that for real. That's not my type game." Jackson's comment, and Morant's initial tweet, was in reference to Golden State head coach Steve Kerr saying that Memphis forward Dillon Brooks "broke the code" when he hit Gary Payton II in the head midair during a dunk attempt in Game 2 that resulted in Payton II fracturing his elbow. Brooks was given a flagrant two foul and ejected. He later was suspended for Game 3 upon further review by the league. "He's getting evaluated now," Memphis coach Taylor Jenkins said of Morant. "Nothing further. We just watched the replay. He was going after a dribble and Jordan Poole actually grabbed his knee and yanked it, which kind of triggered whatever happened, so I'm actually going to be very curious to see what happens after that." When pressed about whether he thinks Poole's grab was intentional, Jenkins said, "I don't know what goes through you guys' head. No, I didn't say that it went on purpose. I said the play happened." "There was a grab. I'm just curious what happened." Morant continued his sensational play during this series before limping off the court. He had 34 points, seven assists and three steals in 36 minutes. That followed his 47-point, eight-rebound, eight-assist performance in Memphis' Game 2 victory in which he said he couldn't completely see out of his left eye after being hit in the eye in the second half. Morant still scored the team's final 15 points in Game 2. He had 34 points, 10 assists and nine rebounds in Game 1. "It is unfortunate," said teammate Desmond Bane , who has been battling a back issue this series. "Ja is obviously having a great series. For something like that to happen, something that is somewhat controllable, Jordan Poole reached out and grabbed his knee and kind of put him in an awkward position, you know, it's unfortunate." Warriors guard Klay Thompson refuted any notion that Poole or any Warrior was trying to injure Morant or anybody else. "Me personally, I've been through a tough knee injury," Thompson said. "And I don't think there's any malicious intent from Jordan. I don't even think he's [Poole] strong enough to affect somebody's knee. But we're not out there trying to hurt people or trying to club people in the back of the head on a fast break. We play the game the right way and I'm going to have his back." Grizzlies point guard De'Anthony Melton says Morant has shaken off injuries before and that hopefully, he will be ready to play in Game 4 on Monday. "I mean, we have seen Ja heal like Wolverine out there," Melton said. "He can be limping one day, next day be fine. He is a warrior and a competitor. Who knows where his level of injury is at. He understands his body and what the team needs and he will make the best decision."