Judge denies NFL's motion to toss Gruden suit
by Ricardo Gutierrez - Judge Nancy Allf. has denied the denies NFL's desire to move Jon Gruden's lawsuit against the league and commissioner Roger Goodell to arbitration as well as league's desire to dismiss the suit.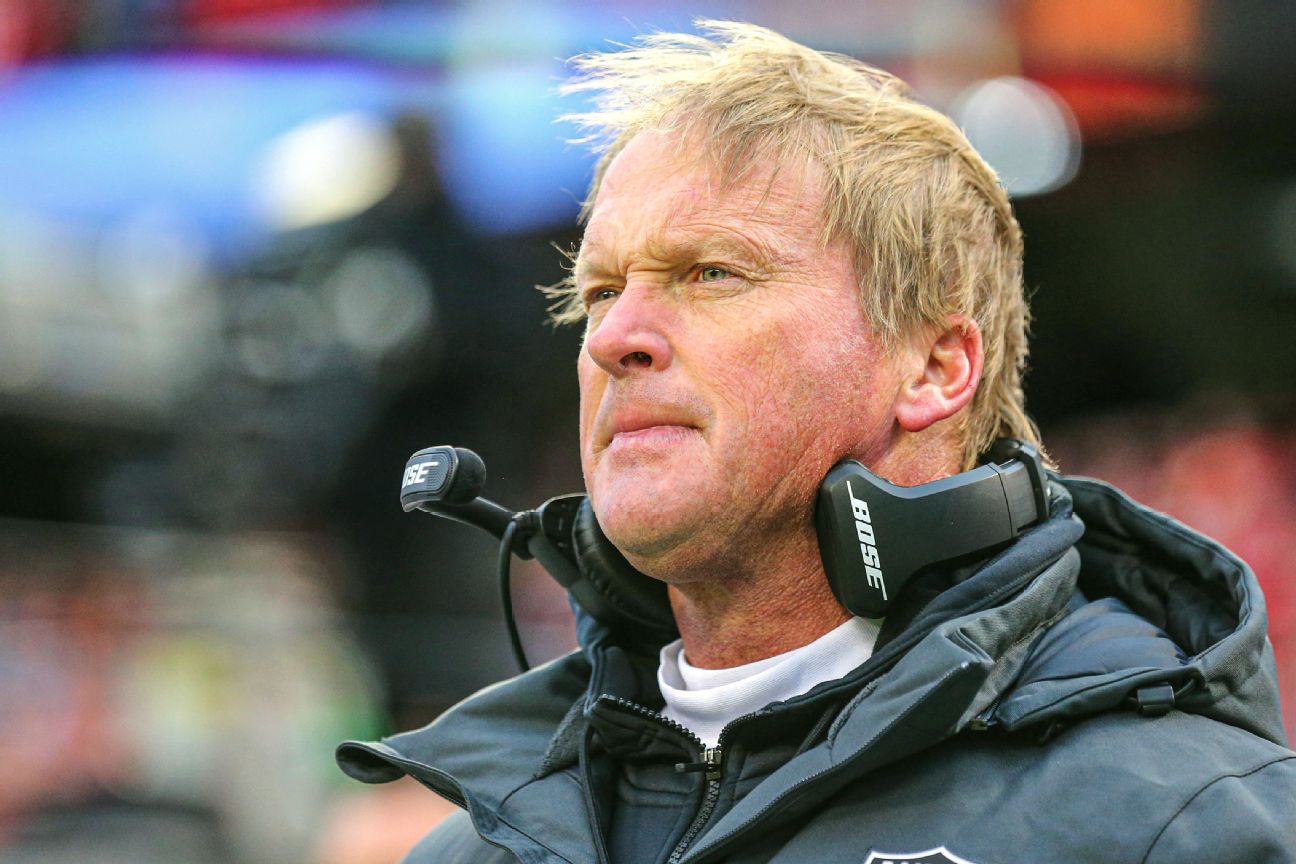 Judge denies NFL's motions to dismiss Jon Gruden's lawsuit, move it to arbitration 3:30 PM ET ESPN A Nevada judge has denied the NFL's motions to dismiss former Las Vegas Raiders coach Jon Gruden's lawsuit against the league and commissioner Roger Goodell and to move the case to arbitration. Judge Nancy Allf made the rulings Wednesday at a hearing where Gruden was in attendance. The rulings allow the lawsuit to proceed to trial unless a settlement is reached. "I'm going to let the process take care of itself," Gruden told reporters after the hearing. "Go Raiders." Gruden, who filed suit in the Eighth Judicial District Court in Clark County, Nevada, on Nov. 12, had resigned as coach on Oct. 11 in the wake of his email scandal that included racist, anti-gay and misogynistic language. The suit alleges that "the defendants selectively leaked Gruden's private correspondence to the Wall Street Journal and New York Times in order to harm Gruden's reputation and force him out of his job," Adam Hosmer-Henner, attorney for McDonald Carano, said in a statement at the time. "There is no explanation or justification for why Gruden's emails were the only ones made public out of the 650,000 emails collected in the NFL's investigation of the Washington Football Team or for why the emails were held for months before being released in the middle of the Raiders' season." The NFL on Jan. 19 filed the motion to dismiss, as well as to compel arbitration against Gruden's lawsuits in which he is seeking "the recovery of money in excess of $15,000.00" in each of the seven causes of action, according to NFL.com. ESPN's Paul Gutierrez contributed to this report.