Inside the remaking of Oklahoma football
by Ricardo Gutierrez - It was a turbulent offseason for the Sooners, starting with the move of Lincoln Riley (and, eventually, QB Caleb Williams) to USC. But new coach Brent Venables isn't expecting a slow down.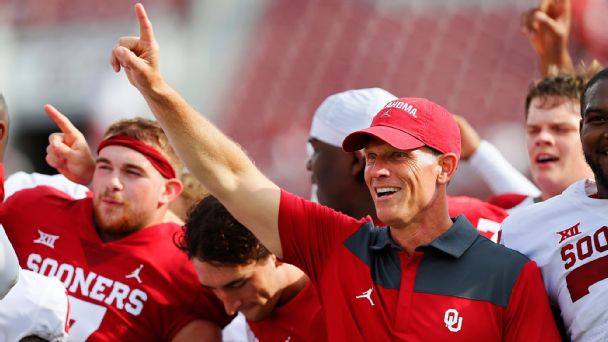 Inside the remaking of Oklahoma football After a chaotic offseason at Oklahoma, Brent Venables is looking to bring stability to the Sooners ahead of their move to the SEC. Photo by Brian Bahr/Getty Images 8:00 AM ET Pete ThamelESPN NORMAN, Okla. -- Perhaps no image better encapsulates the eye-popping intensity of Brent Venables than the pictures of Clemson's get back coach struggling to tug the school's longtime defensive coordinator back to the sideline. It's fitting that in his first season as a head coach at Oklahoma , Venables' go-to "Good to Great" analogy references pushing toward a breaking point for intensity. In the quest to keep the entire Oklahoma program at the top echelon of college football, Venables wants everyone affiliated with the program to find the extra degree between 211 and 212, the boiling point for water. "Steam is what moves a locomotive," Venables told ESPN recently, his motor running typically high. "A little more time and energy and focus and effort and money and more efficiency. It takes a little more." The difference between 211 and 212 represents an apt convergence point for Oklahoma, where Venables takes over a program in an enviable purgatory. Oklahoma is lodged firmly amid the sport's elite programs, with one of the game's top-five overall winning percentages over the past five, 10, 15 and 20 seasons. No program has won more total games -- 215 -- in the past 20 years. By nearly any metric, Oklahoma is preposterously successful, as the Sooners have won an astounding 14 conference titles since 2000. Oklahoma also hasn't won a national title since 2000, and the crux of the early part of Venables' tenure will be to both keep OU in College Football Playoff contention and simultaneously prepare the program for the competitive upgrade that will come along with joining the SEC in 2025. Not surprisingly, Venables is preparing to both stay hot and push things to a boil. "Why wait to be great?" he said. "Sometimes, you just have to have the faith and courage to say, 'Let's go all in.' To me, that's what it takes. To be bold in leadership and courage. To think enormously big and be unapologetic about it." Nearly a year ago, Oklahoma athletic director Joe Castiglione and a few of his staffers were on a tour through a handful of schools in preparation for the SEC move. When they stopped at Clemson , Dabo Swinney greeted the Sooners contingent with a blunt message and a chuckle: "HE AIN'T COMING BACK" "He was kidding us," Castiglione recalled with a laugh. "Like we were there to take Brent." A few months later, circumstances dictated when the Sooners did just that. And Venables came to OU armed with a blueprint of how to topple the SEC from Clemson -- the only place that's done it with any consistency in the past 15 years. Editor's Picks How new college football coaches are rebuilding teams through recruiting 8d Tom VanHaaren 1 Related Venables, 51, has coached in an astounding eight national title games in his career as an assistant and been a key cog in historic runs at Kansas State (1996 to 1998), Oklahoma (1999 to 2011) and Clemson (2012 to 21). But he bristles at the notion that looms as the biggest early question looming over his tenure -- that he was so hyper focused on building elite defenses that he's got a learning curve for all the ancillary duties required to be a head coach. Anyone who has been around Venables' first spring at Oklahoma realizes he has delivered more than plenty of steam. There's a clear direction, a refined plan that includes football support staff increased by 81% and no apologies. Also, Oklahoma's football facility doubles as a hard hat zone. There's an immediate $2 million being spent in improvements to help fulfill Venables' vision of a more player-centric program. (That means an increased focus on elite recovery, sports science and life after football.) And there's also clearing space for more offices for all the new bodies. The arrival of Venables to lead Oklahoma into the SEC was certainly unexpected, as Lincoln Riley's departure to USC shook the program and community. But any ripples from that have long left the building and been replaced by the cacophony of progress. The locomotive chugs ahead. "We're right there," Castiglione said. "We just need to keep pouring into our plan to win another national championship." Castiglione worked with Venables for 13 years at OU, so there was plenty he already knew. He called Venables "as good of a recruiter as you'll find in any sport" and knew that his relentless energy would translate. "Brent unplugged is the same as Brent plugged in," Castiglione said with a laugh. "He has the eternal battery pack." As Venables recounts his role at Clemson, he stresses that it transcended game plans and defensive recruiting. He did his best to exhibit the same "fanatical buy-in" that he's going to expect from his staff. That meant recruiting guys from the offensive side of the ball to Clemson's PAW program, which is the type of life-after-football plan of action he based OU's new SOUL Mission off. He also spent plenty of time with donors, in front of the media and planning the holistic things necessary to be a great head coach. Venables stresses he was content with "trying to create value" and "being an amazing teammate," as he never sought validation from outside the program. But his role still required plenty of building -- a defense, a culture, relationships and trust. "The hamster wheel has always been smoking for me," he said. "It's a very demanding profession. I've always felt a huge responsibility to always be on and working to make the program I've been a part of excellent. I haven't gone out of my way to beat my chest to do it. That's your job. You want to be great." Brent Venables' trademark intensity is best embodied by the "get back" coach Clemson needed to keep him off the field while calling defensive plays. Brian Utesch/Icon Sportswire Venables is building for his debut against UTEP in September while also plotting a way to compete with Alabama and Georgia in the SEC and perennial contenders like Ohio State and Clemson. While OU had plans to build up in anticipation of its move to the SEC prior to Venables' arrival, the sudden coaching transition has expedited some of those changes. Venables is confident in the CEO element of running an operation from 30,000 feet above the Xs and Os -- donors, media, long-term planning, recruiting organization and staff management. He's been intentional about building relationships with OU president Joseph Harroz, Castiglione, deputy AD Zac Selmon and other key campus leaders. "He has a comprehensive vision," Castiglione said. "It isn't all ball all the time. Obviously, the priorities are clearly in order. He understands how important it is to strike the right balance between player development on the field and player development off the field. "Not just preparing them to be the best at their position and be the best on their team. He wants to prepare them for life beyond the college experience. He's very intentional about that." There's perhaps no support staffer in the country better positioned to be Venables' wingman on this journey than Thad Turnipseed, who is OU's executive director for football administration. He helped build the infrastructure at Alabama during Nick Saban's early years there and then went to Clemson to help Dabo Swinney build Clemson into the only program that's proven a consistently worthy foil to the SEC. Turnipseed is working closely with Venables on a vision that will allow the off-field infrastructure to align with what's needed to compete annually in the sport's most rugged conference. (And yes, all indications are that's still coming in 2025 after three more seasons competing in the Big 12.) The number of football support staff members under Venables has increased by 22 bodies, up to 49 this season from 27 under Riley last year. The on-field assistant coach staff pool increased by $1 million with an additional $2 million for off-field support staff. That's a mix of analysts, recruiting/player personnel, graduate assistants, strength coaches, creative, operations and a program invented by Venables called the SOUL Mission that focuses on life after football. (SOUL Mission, which stands for Serving Our Uncommon Legacy, has five completely new bodies dedicated to off-field development.) There's also a study underway on whether OU should build a completely new football facility or overhaul the current one. "What will this place be upon entering the SEC? With three years of runway, we'll be a top-three program in the SEC in facilities and programmatically," Turnipseed said, speaking to infrastructure. "We won't be the best of every little facet. No one is. Holistically, we'll be top three. Everyone has the vision -- the president does, the AD does and of course I know Brent does. And I do. We know what it looks like." Clemson, of course, is what it looks like outside of the SEC. And Venables' role in Clemson's rise to the elite in the sport shouldn't be understated. In a way, his hiring from Oklahoma in 2012 was a big part of Clemson's all-in commitment on big-time football that woke up the program from decades of mediocrity. The Tigers went from giving up 70 in the Orange Bowl following the 2011 season to playing for the national title following the 2015 season. Castiglione makes a familiar comparison, noting Venables' impact on Clemson as similar to Bob Stoops' at Florida as Steve Spurrier's defensive coordinator during a three-year run of 32-5 and the 1996 national title. Venables has jokingly been compared to being an honorary Stoops brother after working with Bob and Mike for so long. It's not surprising he's channeling their spirit. Opposing coaches in the Big 12 footprint have noticed a slight philosophical shift in Oklahoma's recruiting from Riley's staff, with more of a focus on the states in and around the league's footprint as opposed to more national recruiting. (Not all in the Big 12 love this, as an OU offer in this area trumps most Big 12 offers.) Venables said he didn't spend any time studying what was done under the last staff in terms of recruiting philosophy, but he knows the strong on-field results and roster talent. But as he builds for the future, he's focused on "generational players" who will "embrace the suck" of the daily grind that greatness requires. "I just know this," Venables said. "The best teams that Oklahoma has had, there's been a good portion of those players from the states of Oklahoma and Texas and the surrounding states." Castiglione brought up an interesting point that stood out in this transient era of college football. He said that Venables is both recruiting for the future but also constantly recruiting his current roster, an acknowledgement of how fluid this era of college football truly is. And that's why Venables is funneling that same endless sideline energy into improving the all-around experience for his players day-to-day. Venables helped create expectations at Kansas State as a player and assistant, has lived the lofty expectations at Oklahoma and helped transform and fulfill them at Clemson. Now that he's finally a head coach after years of being judicious about jobs and interviews, he's ready to bring things to a boil. Let the get back coach auditions begin, as Oklahoma is charging toward staying at the sport's highest levels. "It's a program that needs to get better in areas that give it the chance to win a national championship," Castiglione said. "We need to continue to strengthen the program so it does that. We've been right there. We've got to find the areas where we need to improve. It comes down to continually finding areas to strengthen your football team."