Heat's Strus still bothered by negated 3-pointer
by Gordon Dixon - Max Strus has seen the video of his 3-pointer that was negated in the third quarter of Game 7 and says, "I don't know how that was called."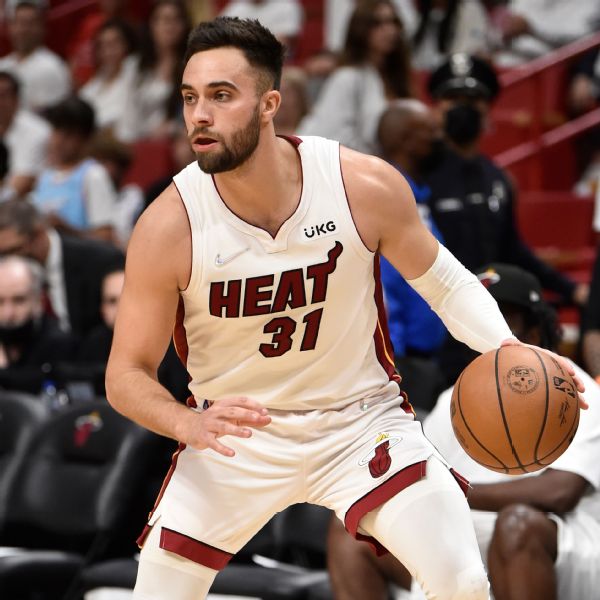 Miami Heat's Max Strus still bothered by negated 3-pointer in Game 7 loss to Boston Celtics 3:52 PM ET Nick FriedellESPN Staff Writer Close Nick Friedell is the Chicago Bulls beat reporter for ESPN Chicago. Friedell is a graduate of the S.I. Newhouse School of Public Communications at Syracuse University and joined ESPNChicago.com for its launch in April 2009. Max Strus still can't believe his 3-pointer early in the third quarter of Game 7 of the Eastern Conference finals was overturned by the NBA's replay center. Speaking for the first time since Sunday's 100-96 loss to the Boston Celtics , the Miami Heat guard admitted that the call is still bothering him. "Thank you for pissing me off again," Strus said during a season-ending press conference in Miami. "But yeah, I don't know how that was called that after I've seen the video. They say they have that rule to take the human error out of the game and the human error makes an error on the video. So I don't know -- hopefully I don't get fined." The call in question came with 11:04 remaining in the third quarter, when Strus knocked down a 3-pointer deep in the corner that cut the Celtics' lead, which had been as many as 17 earlier in the first half, to 56-54. After several minutes of game action -- during which the Celtics put together another run of their own -- the call was overturned by the NBA replay center in Secaucus, New Jersey. Heat coach Erik Spoelstra said after the game that he was "in shock" after the points were taken off the board. "I'm obviously not happy about it," Strus said. "But it is what it is at this point, I guess we can't really do anything. But it definitely changed the game and the momentum. I think it went from a six-point game to an 11-point game with no time coming off the clock so yeah -- it is what it is, I guess is the best I can put it. I'm not happy about it but I guess you just got to move on." Editor's Picks 1 Related Speaking after Sunday's game, Spoelstra said the play, which appeared to show Strus' feet just touching the out-of-bounds line -- and will forever be ruled as a turnover, would be a "case study" in future league meetings. Spoelstra made it clear several times that the call isn't the reason why the Heat lost, but he was upset with the timing in which it was handled. "I'm sure they will look at that, and we'll probably be the case study for it," Spoelstra said. "I'm OK if it happens the way it used to. They would look at it at the next foul or break and look at it and notice it, but it was probably 10 minutes of real time -- somebody check on that." "That was so unusual for us to be grinding and then start to get some momentum, and then it was like, 'Oh, hey, by the way, take away that 3,' with no explanation," Spoelstra said. "That's the human side of it. That's not the complaining side of it. Who knows if that would have changed anything, anyway."