Draymond: 'Never' going to change style of play
by Gordon Dixon - Golden State Warriors star Draymond Green said he's not going to change his style of play despite being two flagrant points away from a suspension after his ejection in Game 1 of the Western Conference semifinals.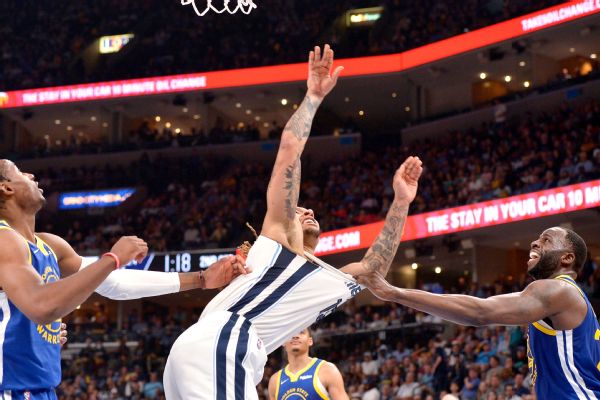 Golden State Warriors' Draymond Green: 'I'm never going to change the way I play basketball' 5:20 PM ET Kendra AndrewsESPN MEMPHIS, Tenn -- The Golden State Warriors had little reaction by the league announcing it would not downgrade Draymond Green 's flagrant two that he picked up in the second quarter of Game 1 of the Western Conference semifinals against the Memphis Grizzlies . That being said, there is reason to wonder if Green's two flagrant points will impact the way he plays from here on out. "I am never going to change the way I play basketball," Green said after practice on Monday. "It's gotten me this far. Gotten me three championships, four All-Stars, Defensive Player of the Year. I'm not going to change now." Editor's Picks Poole party: Is there a third Splash Brother in the Bay Area? 3h Kendra Andrews After his ejection in Game 1, Grizzlies' Brandon Clarke said that Green's play -- which ended with him hitting Clarke on the head and grabbing his jersey -- was not surprising. Clarke said he had seen Green make plays like that throughout his career. Green said he was not surprised by Clarke's comment, and won't let it faze him. "My reputation is a badge of honor," Green said. "Not everybody can earn that reputation." Green was suspended from Game 5 of the 2016 NBA Finals after picking up four flagrant points that postseason. When asked if his ejection on Sunday felt similar to his flagrant in 2016, Green said "every year feels similar to me. Nothing has changed my entire career." While, Warriors coach Steve Kerr and guard cautioned that while they don't want Green to change the way he plays from here on out, he must play with certain mindfulness to avoid picking up two more flagrant points that would result in a suspension. "Unfortunately, yeah, he has to be mindful of that," Curry said. "Only he can tell you what that means for him and how he approaches each game. I want him to be himself and make the plays he's capable of making and impact the game, be demonstrative, be the Draymond we expect. But, he can't be in a situation where the interpretation of rules goes against him." "It will absolutely not take the bite out of the way I play," Green said. "Because then we go home early, and the (flagrant) points don't matter anymore. I don't know how to take bite out. That doesn't work for me."