Draymond gives Dubs 'attitude adjustment' in win
by Gordon Dixon - Draymond Green gave the Warriors a needed "attitude adjustment" that propelled them to a bounce back Game 2 win.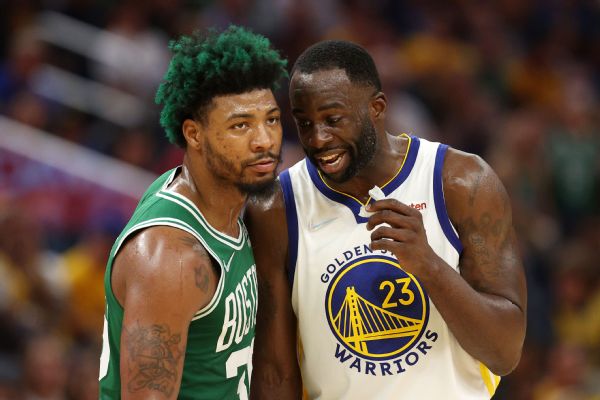 Draymond Green gives Golden State Warriors 'attitude adjustment' in dominant Game 2 win 2:18 AM ET Ohm YoungmisukESPN Staff Writer Close Ohm Youngmisuk has covered the Giants, Jets and the NFL since 2006. Prior to that, he covered the Nets, Knicks and the NBA for nearly a decade. He joined ESPNNewYork.com after working at the New York Daily News for almost 12 years and is a graduate of Michigan State University. Follow him on Twitter »   Ohm's chat archive » SAN FRANCISCO -- Eleven seconds into Game 2, Draymond Green tied up Al Horford to force a jump ball before the Golden State Warriors forced a turnover. Green was intent on sending a message, not to the Boston Celtics , but one to his own team. Setting the tone by harassing Celtics ballhandlers and talking plenty of trash, Green gave the Warriors the "attitude adjustment" they needed to even the NBA Finals with their 107-88 Game 2 win at Chase Center. Stephen Curry scored 29 points and Jordan Poole got loose for 17 points as the two Warriors outscored the Celtics by themselves in a game-changing third quarter, 20-to-14, to help Golden State go on a 41-14 run out of halftime. Editor's Picks C's lament more 3rd-quarter woes after blowout 42m Tim Bontemps Warriors, Celtics don 'End Gun Violence' shirts 6h Ohm Youngmisuk 2 Related "It was definitely an attitude adjustment," Green said. "... They are who we thought they were. So we knew we had to keep our foot on the gas pedal and not let up, and we did that." One game after watching Boston make 9-of-12 3-pointers in the fourth quarter to steal Game 1, the Warriors held the Celtics to 37.5% shooting in Game 2. While Jayson Tatum hit 6-of-9 3s and scored 28 points, Golden State contained Tatum's supporting cast. Al Horford, Marcus Smart and Derrick White combined to shoot just 6-for-23 from the field. In Game 1, that Boston trio buried 15-for-23 from 3-point range alone. The Warriors tweaked some things by having Green defend Jaylen Brown and Klay Thompson start on Horford. Brown shot 5-for-17 and scored 17 points but Horford was held to two points. "Guys follow me on that side of the ball," Green said of setting the tone defensively. "If I'm not sending a message, who is sending that message?" Curry actually says Green began setting the tone for the Warriors minutes after their 120-108 loss in Game 1. Asked when he knew he would see an amped-up Green on Sunday, Curry replied, "About five minutes after Game 1. That's all I needed to see and hear." "I thought everybody was more engaged," Warriors head coach Steve Kerr said. "It was pretty obvious, just our level of force and physicality was ramped up quite a bit, and it had to be." The Warriors only led 52-50 at halftime. But they outscored Boston, 35-14, in the third quarter and would push their lead to 93-64 with 10:45 left in the fourth. Curry scored 14 of his points in the third quarter, hitting three triples, while also taking Green's lead and playing defense as well. "Steph was breathtaking in that quarter," Kerr said. "Not just the shot-making but the defensive effort." Poole, who was held to nine points in Game 1, buried two 3-point bombs in the final 30 seconds of that backbreaking third quarter, including a 39-footer that came two steps past halfcourt near the R in the Chase Center logo on the court. "That was obviously a big shot to get the crowd into it," Curry said. "Put kind of a dagger on that great third quarter that we had." Now, the Warriors head to Boston not only "in a great mental space" as Green says but with the confidence that they know what it takes to win on the road in the playoffs. Golden State has won at least one road game in an NBA-record 26 straight postseason series. "We put ourselves right back in position to take control of the series," said Green, who finished with nine points, seven assists and five rebounds. "Now, we haven't taken control of it yet. But we have put ourselves in position to go and take control of it."