Del Rio fined $100K for Floyd-Capitol comparison
by Ricardo Gutierrez - The Commanders have fined defensive coordinator Jack Del Rio $100,000 over his comments comparing the Jan. 6, 2021, invasion of the U.S. Capitol and the protests that followed the murder of George Floyd.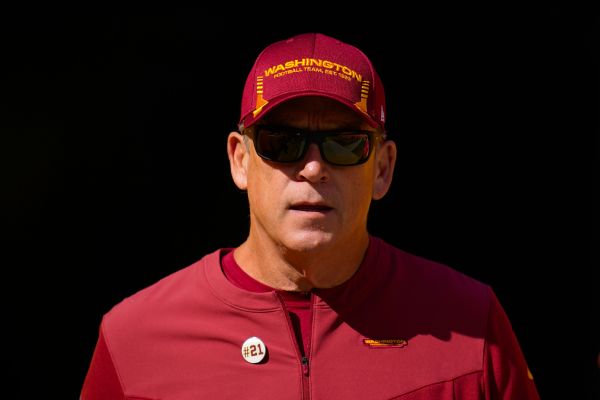 Washington Commanders defensive coordinator Jack Del Rio fined $100,000 for comments on U.S. Capitol invasion, George Floyd's murder play Del Rio defends tweets about Jan. 6 hearings (0:54) Commanders DC Jack Del Rio defends controversial tweets about upcoming Jan. 6 hearings. (0:54) 2:29 PM ET John KeimESPN Staff Writer Close Covered the Redskins for the Washington Examiner and other media outlets since 1994 Authored or co-authored three books on the Redskins and one on the Cleveland Browns The Washington Commanders have fined defensive coordinator Jack Del Rio $100,000 following his comments earlier in the week referring to the events of Jan. 6, 2021, at the U.S. Capitol as a "dustup" while comparing that day to "riots, looting, burning" during protests in the summer of 2020. In a statement, Washington coach Ron Rivera said he met with Del Rio on Friday morning to express his disappointment in the coordinator's comments. "His comments do not reflect the organization's views and are extremely hurtful to our great community here in the DMV," Rivera said. "As we saw last night in the hearings, what happened on the Capitol on January 6, 2021 was an act of domestic terrorism. A group of citizens attempted to overturn the results of a free and fair election, and as a result lives were lost and the Capitol building was damaged." Editor's Picks Del Rio apologizes after calling Jan. 6 a 'dustup' 2d John Keim Va. Assembly tables Commanders stadium bill 23h John Keim 1 Related The fine money will be donated to the U.S. Capitol Police Memorial Fund, Rivera said. Del Rio also will address the team Tuesday, when the Commanders will begin their mandatory three-day minicamp. On Wednesday, Del Rio defended a reply he made on Twitter two days earlier, when he tweeted, "Would love to understand 'the whole story' about why the summer of riots, looting, burning and the destruction of personal property is never discussed but this is??? #CommonSense." Del Rio said he felt there were two standards being applied and that he was just expressing his opinion. But in response to the final question of his news conference, Del Rio called the U.S. Capitol invasion a "dustup", creating another controversy for a franchise that didn't need one. He apologized in a statement later Wednesday saying, "Referencing that situation as a dust-up was irresponsible and negligent and I am sorry. I stand by my comments condemning violence in communities across the country. I say that while also expressing my support as an American citizen for peaceful protest in our country."