C's Tatum focused on 1st NBA title not his status
by Gordon Dixon - Jayson Tatum, who will play in his first NBA Finals game at TD Garden Wednesday, says he's focused on the Celtics limiting ball turn-overs and winning an NBA title not on questions of whether he's a superstar player.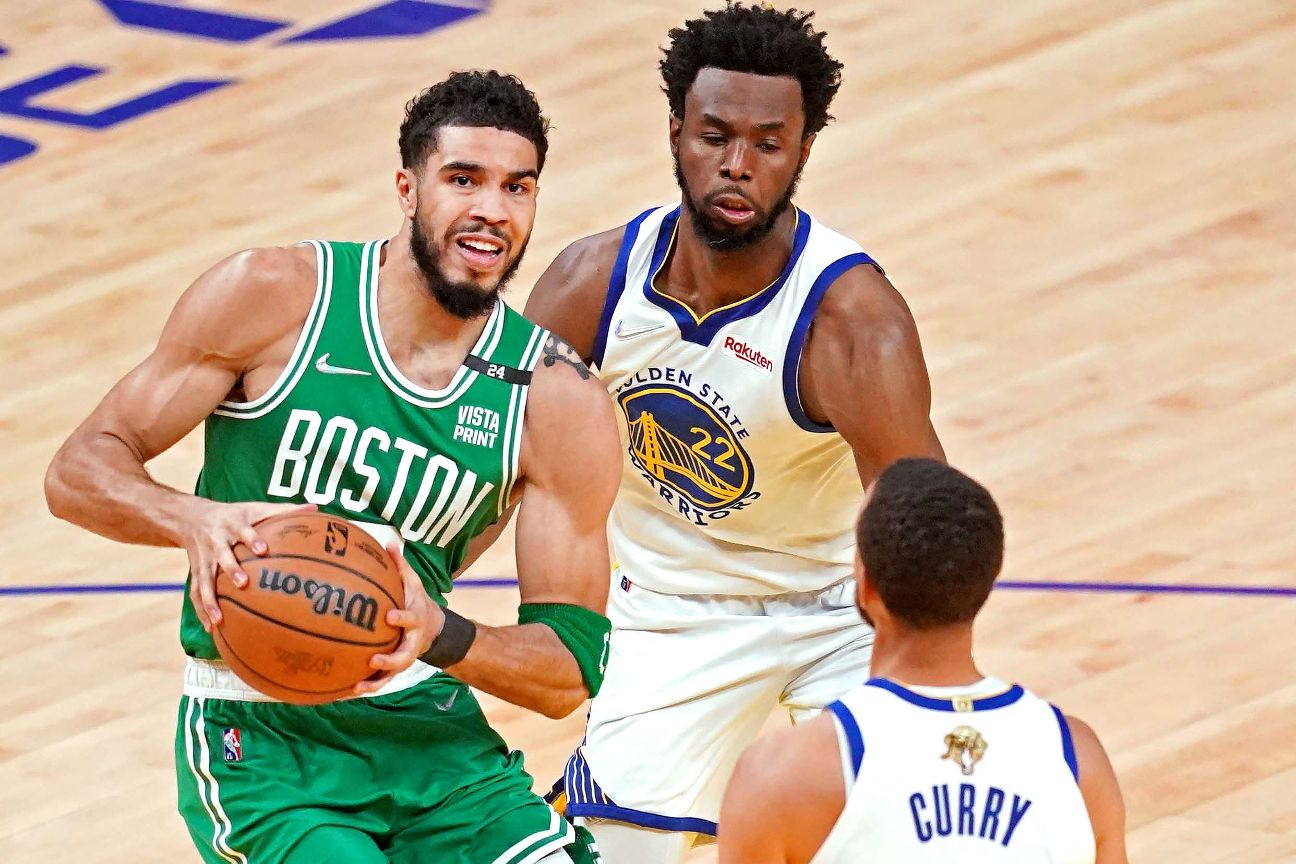 Boston Celtics star Jayson Tatum says key to beating Golden State Warriors for NBA championship isn't 'rocket science' 4:20 PM ET Tim BontempsESPN BOSTON - As Jayson Tatum and the Boston Celtics have gone through their roller coaster of a season over the past several months, turning their season around and reaching the NBA Finals for the first time in his career, there's been plenty of debate about Tatum's standing within the NBA. But as he prepares to play in his first NBA Finals game here at TD Garden Wednesday night, when the Celtics will host the Golden State Warriors in Game 3 of the NBA Finals with both teams tied at a game apiece, Tatum said he knows three more victories in this series will give him an inarguable title: NBA champion. "If you win a championship, they can debate a lot of things," Tatum said after Boston's practice Tuesday afternoon at the arena. "They can't debate whether or not you're a champion. "Obviously lost the other night. Just looking forward to bouncing back tomorrow. First Finals game at home, at the Garden. It's going to be fun. I'm looking forward to it, enjoying this experience." Tatum has emerged as the face of Boston's franchise, earning a first team All-NBA selection this season and a third straight All-Star selection before subsequently leading Boston through a playoff gauntlet of Kevin Durant , Giannis Antetokounmpo and Jimmy Butler to bring the Celtics back to the NBA Finals for the first time since 2010. But, as is always the case with these types of things, his rise has brought with it debates over whether he's a star or if he's graduated into the rarified air of superstardom. After being asked if anything about this run "as a superstar player" has surprised him, Tatum smiled as he turned the question back around and asked where the idea he was a superstar, or whether he wasn't, even came from. "A lot of people want to debate," Tatum said. "I guess you just commented about the superstar, whatever that means, right? I've seen there's a huge debate: is he a superstar or is he not? I want to know where that came from. Did I tweet that? Did I ever say I'm a superstar, I'm on the verge? That never came from me. "It's been a big deal this last year and a half or two years. I see it all the time. There's always been a question in the back of my head, I wonder who spoke on my behalf or said that or why that was such a big deal." Beyond the natural push-and-pull of barroom debates about sports, the debate has also arisen, in part, because of Tatum's growth as a player. He and the Celtics went through three future Hall of Famers in Durant, Antetokounmpo and Butler to get here - including two 7-game series against the Milwaukee Bucks and Miami Heat in the Eastern Conference semifinals and finals. Tatum, himself, won the first ever Larry Bird Trophy as the Most Valuable Player in the Eastern Conference finals having averaged 25 points, 8.3 rebounds and 5.6 assists across the seven games against the Heat. He had 30 and 46 points in two road wins in the Bucks series. And he's even found ways to contribute when he's struggled at times, like when he had 13 assists while scoring 12 points on 3-for-17 shooting in Boston's Game 1 win over Golden State. And he's helped prevent the Celtics from losing two games in a row at any point in these playoffs - something Boston has only done once, period, since late January, and that came when half their team didn't play in Toronto on a second half of a back-to-back late in the regular season. "You have a bad day at work, the next day you want to have a better day at work," he said. "I think everybody can understand that. You lose a game, or don't play well, you want to come back and have a better game. "I'm sure everybody can relate to that, whatever you work at. It's all the same." What's not the same is being three games away from an NBA championship for the first time in Tatum's career. To get there, though, Boston is going to have to focus on taking care of the ball. When the Celtics have 15 turnovers or fewer in these playoffs, like they did in Game 1 of the NBA Finals, they are 13-2 in these playoffs. But when Boston has 16 or more turnovers, like they did in Game 2, Boston is 0-5. "Turnovers are a big part of the game, especially when you see how many times we turned it over and how many points they scored off that," Tatum said. "You just think, if you could limit those turnovers, you could limit a lot of those points. "Yeah, I mean, basically we don't turn the ball over, we give ourselves a better chance to win. That's not rocket science. It's just a matter of doing that more often than not."