Brooks: 'Didn't mean' to injure Warriors' Payton
by Gordon Dixon - Memphis Grizzlies forward Dillon Brooks said he would take back his flagrant foul 2 in Game 2 that broke the elbow of Golden State Warriors guard Gary Payton II if he could.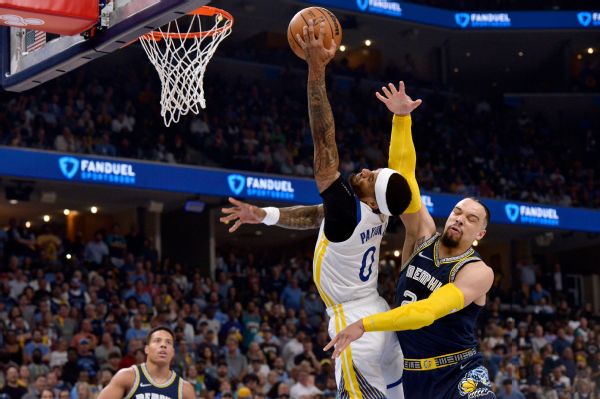 Memphis Grizzlies' Dillon Brooks says he didn't mean to injure Golden State's Gary Payton II 5:45 PM ET Ohm YoungmisukESPN Staff Writer Close Ohm Youngmisuk has covered the Giants, Jets and the NFL since 2006. Prior to that, he covered the Nets, Knicks and the NBA for nearly a decade. He joined ESPNNewYork.com after working at the New York Daily News for almost 12 years and is a graduate of Michigan State University. Follow him on Twitter »   Ohm's chat archive » SAN FRANCISCO -- Memphis Grizzlies forward Dillon Brooks said he would take back his flagrant foul 2 that broke Gary Payton II 's elbow if he could. In his first comments since his ejection in the opening minutes of Game 2 and his suspension for Game 3, Brooks said he did not mean to injure the Golden State guard. "It's in the past," Brooks said after the Grizzlies' shootaround before Game 4. "I didn't mean for it to hurt somebody. If I were to take it back in a moment, I would. But it's in the past." Editor's Picks Grizzlies' Morant likely out Game 4, Jenkins says 22h Ohm Youngmisuk Payton breaks elbow; Kerr: Brooks 'broke code' 5d Kendra Andrews 1 Related Brooks also said he did not understand what Steve Kerr meant when the Golden State head coach said Brooks "broke the code" by fouling an airborne Payton, hitting him in the head and injuring him. Payton will be out for at least two weeks with the fractured left elbow. "No reaction," Brooks said when asked what he thought of Kerr's pointed comments. "I don't really even know what that means. It's the playoffs. Every bucket, every possession, every play counts. So I didn't understand what he meant by that." Brooks added: "I was trying to make a play on the ball. And he was running full speed, I jumped and he adjusted." Brooks knew going into Game 4 that he likely would be Public Enemy No. 1 with Warriors fans. "I like getting booed," he said. "I like guys against me. It gets me going even more."