Arch Manning starts visits, roster management and more football recruiting updates
by Ricardo Gutierrez - Georgia football made a push for Arch Manning, while other top college recruits narrowed down their lists.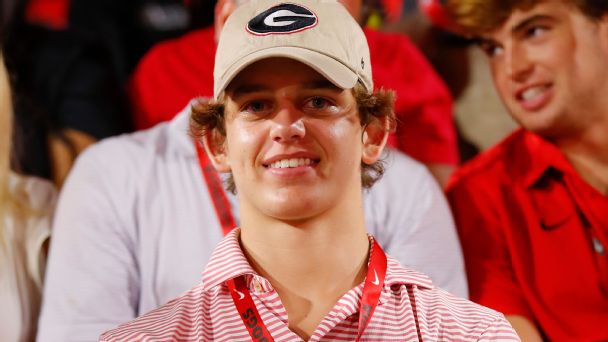 College football recruiting notebook: Arch Manning starts visits, roster management and more 9:00 AM ET Tom VanHaarenESPN Staff Writer Close ESPN staff writer Joined ESPN in 2011 Graduated from Central Michigan We have started to see some of the quarterback dominoes fall in college football's 2023 recruiting class, with ESPN 300 quarterback Malachi Nelson already committed to USC , Nico Iamaleava committed to Tennessee and Eli Holstein flipping from Texas A&M to Alabama . With those prospects already committed, the uncommitted prospects have started to progress in their recruitments, moving closer to a commitment. We take a look at those quarterbacks, where the 2023 class stands and how coaches feel about eliminating the 25-man initial counter rule. Quarterback dominoes Arch Manning is the No. 1 overall quarterback and just visited Georgia this past weekend. Manning was joined on the visit by ESPN 300 running back Justice Haynes (No. 48 overall), safety Caleb Downs (No. 14), Michigan commit Raylen Wilson (No. 56) and tight end commit Pearce Spurlin (No. 163), among others. Downs showed off his cookie cake from his visit, which is always a staple for any good recruiting trip. Manning is also taking visits to Alabama and Texas in the coming weeks. Florida and LSU are still listed, though Manning hasn't announced a decision date. Given the visits he has been taking, it seems as though he is making his way toward a final choice. ESPN 300 quarterback Jaden Rashada will decide between Cal , Florida, LSU, Miami , Ole Miss , Oregon and Texas A&M on June 18. He recently took visits to Ole Miss and Texas A&M and will also see LSU and Florida in the next couple weeks. Rashada is the No. 22 prospect overall and the No. 1 dual-threat quarterback in the class. He's a 6-foot-4, 185-pound prospect from Pittsburg, California, and will be a big domino in the quarterback landscape to fall once he commits. Once Rashada makes an announcement, Avery Johnson will be the lone ESPN 300 dual-threat quarterback yet to commit, as Jackson Arnold chose Oklahoma , Kenny Minchey picked Pitt , Chris Parson committed to Florida State and Gabarri Johnson chose Missouri . As it stands, with Rashada still uncommitted, there are only five ESPN 300 quarterbacks uncommitted in total, including both dual-threats and pocket passers. Top lists from top prospects ESPN 300 prospect Nyckoles Harbor made his top list public, including Georgia, LSU, Maryland , Miami, Michigan , South Carolina and USC . Harbor, ranked No. 24 overall, is 6-foot-5, 220-pound athlete out of Washington, D.C. He plays a few positions but is mainly being recruited as an edge rusher by most programs. Despite his size, Harbor also has incredible speed, recently running the 100-meter dash in 10.28 seconds and 10.3 seconds. Harbor has hopes of making it in football, but is also aiming for the Olympics in track and field. ESPN 300 offensive lineman Samson Okunlola released his top-nine list, which consists of Alabama, Florida, Georgia, Miami, Michigan State , Ohio State , Oklahoma, Oregon and Penn State . Okunlola is the No. 34 recruit and the No. 3 offensive tackle in the class. He is a 6-foot-5, 300-pound recruit from Braintree, Massachusetts, who has a unique nickname. He refers to himself as Pancake Honcho, and college coaches have embraced that nickname. He has taken photos with pancakes and even lobbied for an NIL deal with IHOP. Offensive linemen and pancakes go hand-in-hand, so it makes perfect sense. He is leaning into the nickname and might end up profiting off of his creativity in the end. Where the ESPN 300 recruits stand Currently, 104 ESPN 300 recruits have committed. Notre Dame is leading the way with nine commits in the top 300, three of which are in the top 50. Georgia is next with seven, followed by Oregon, Ohio State and Louisville , who each have six. Alabama, USC, Texas, LSU, Tennessee and Arkansas each have four. There are 10 five-star prospects in this class, and only one, quarterback Malachi Nelson (No. 2), has committed. Nelson flipped from Oklahoma to USC and is the highest-ranked prospect to make a commitment thus far. From the players ranked in the top 25, six are committed. Among those six, three are committed to USC: Nelson and wide receivers Zachariah Branch and Makai Lemon . The class has 11 prospects ranked in the top 50 who are currently committed, three of whom are committed to Notre Dame. Within the positional rankings, the top prospect at quarterback (Manning), running back (Richard Young ), offensive tackle (Francis Mauigoa ), cornerback (Cormani McClain ), outside linebacker (Anthony Hill ), defensive tackle (Peter Woods ) and safety (Caleb Downs ) are all still uncommitted. Mauigoa released a top six that consists of Alabama, Florida, Hawaii , USC, Miami and Tennessee. Woods put out a top six of Alabama, Clemson, Florida, Georgia, Auburn and Oregon in December and recently took a visit to Clemson, with a trip to Florida coming on June 9. Young took an official visit to Oklahoma on June 3 and has visits to Alabama, Notre Dame, Georgia and Oregon the rest of the month. Hill has Alabama, Oklahoma, Texas, Texas A&M and USC on his top list and just took a visit to Oklahoma. Downs just took a trip to Georgia, and will see Notre Dame, Alabama and Ohio State throughout June. Eliminating the 25 initial counters College coaches are also adjusting to the NCAA doing away with the initial counter scholarship limit for two years. Previously, coaches were not only limited to 85 total scholarships, but also 25 initial counters in each class -- transfers and high school prospects, even if a program was under the 85 limit. Editor's Picks Scouting Arch Manning, Malachi Nelson and the top 2023 QB recruits 6d Tom Luginbill Breaking down the top uncommitted 2023 recruits by position 26d Tom VanHaaren The next Sauce Gardner? Top 2023 recruits who remind us of current stars 32d Tom Luginbill and Craig Haubert 2 Related The NCAA created a waiver to allow coaches to go over that 25 annual limit by up to seven scholarships based on the number of players they had transfer out, but now the rule is gone altogether for two years. "It's going to help a lot, it was needed. It will make it that much easier for schools to get back to the 85 total scholarships," a Big Ten assistant said. "When new coaches come in, sometimes they can't catch up because they're limited. With the transfer portal, you can't predict who's leaving or what's going to happen, so this makes it a little easier because roster management is so difficult right now." Prior to the transfer-portal era, it wasn't as much of an issue; most of the 25 initials were going to high school prospects. Once the NCAA allowed players the opportunity to transfer one time without having to sit out a year, it became more and more popular to leave the school they started at. But if a school brought in eight transfers who are able to play right away, that leaves room for only 17 high school recruits. The issue is if a team has more players transfer out than transfer in, and is under the 85 total limit. That hurts depth and future development, and can impact a program negatively if they aren't able to fill spots because of that annual limit. Getting rid of the 25 will allow coaches to get back to the numbers they need and will also likely give more high school prospects opportunities and scholarships that were previously being eliminated by restrictions in numbers.